In this article, we will take a look at five popular drag and drop page builders for WordPress, what they offer, their pros and cons, and how they compare with each other. Drag and drop page builders are the latest trend in content management systems. They allow you to create layouts of your website pages by dragging and dropping blocks from a library of elements onto a canvas.
Today, the internet has changed the way people live, work and interact with one another. As people have shifted their focus from offline environments to online worlds, websites have become the primary tool for promoting products and services. Website builders are creative tools to build unique websites regardless of technical knowledge.
A common question among beginners is, "How can I create a WordPress website?" Many page builders for WordPress help users design, change and personalize their website layout without writing any code. We'll take a look at five of the most user-friendly WordPress page builders.
1. The Elementor Page Builder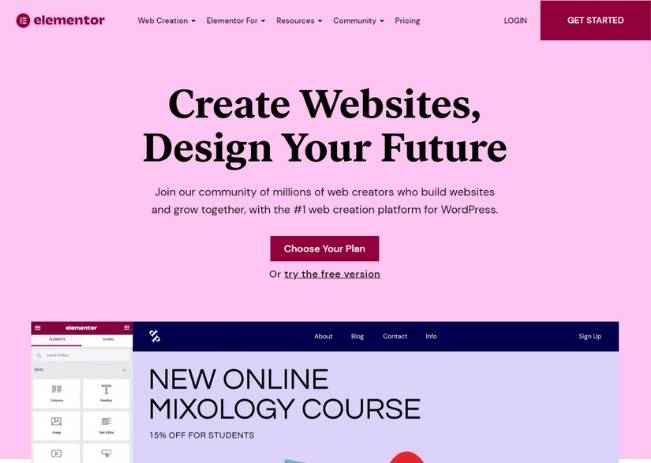 Elementor is a free WordPress page builder plugin that allows you to create complex layouts and designs within minutes. Elementor is one of the most popular page builders available, with a staggering eight million+ websites built with elementor and 140k+ community members.
With Elementor, you don't need to know any coding language to build your website – all you need is an idea in your head, and Elementor will help you bring it to life. There are many reasons why Elementor has become one of the best website builder tools. It's free, easy to use, comes with a wide array of prebuilt elements that are simple to customize. Elementor is the most powerful drag and drop page builder on the market.
Some advantages include updating content quickly through drag-and-drop elements and accessing easy-to-use and aesthetically pleasing templates. For those already experts with coding languages, Elementor provides custom CSS elements to create something truly unique.
Elementor official website: https://elementor.com
2. Divi
A WordPress page builder plugin with a drag and drop theme, Divi is a popular choice for web designers. It's simple to use and includes more than 20 distinct layouts and articles for various websites. With the real-time display of any changes, you may start changing your website by just clicking on it. You don't have to save and preview your new design to see the changes you've made. Moreover, using Divi's 46 content modules, you may place them anywhere you choose. There are three section kinds, 20 rows, and sophisticated design parameters for each piece.
With Divi, you can design any form of custom page layout with only a few clicks of the mouse and save them for future usage. Even while the Divi Builder plugin is the heart and soul of the Divi theme, it works nicely with any WordPress theme.
Divi official website: https://www.elegantthemes.com
3. SeedProd
WordPress plugin SeedProd is a drag and drops landing page builder. This plugin is best for beginners, even due to its simplicity, and anyone can use it without any problem. Moreover, it has excellent speed, and you may select from over 100+ stunning pre-made themes.
You can also design a unique layout using their easy-to-use drag & drop WordPress website builder (no coding needed).
Landing pages, sales pages, thank-you pages, webinar registration pages, soon-to-be pages, maintenance mode pages, 404 pages, and more are all pre-built.
SeedProd official website: https://www.seedprod.com
4. Beaver Builder
A WordPress plugin called Beaver Builder is another easy-to-use built-in plugin for drag and drop purposes. With their onboarding tour, you can get up and running fast to learn about using its templates.
There is a drag-and-drop interface in Beaver Builder. You can drag and drop items from the right sidebar into your website's page to view all of the changes you've made. Editing the attributes of any element on a website is as simple as right-clicking on it.
Sliders, carousels, background images, text blocks, buttons, and more may all be added to your website using modules with the help of Beaver Builder. Over 30 well-designed landing page templates make it easy to develop outstanding website layouts.
Beaver Builder official website: https://www.wpbeaverbuilder.com
5. Visual Composer
Using Visual Composer Website Builder, you can quickly and easily design WordPress websites with unique layouts. The builder is easy to use, ensuring that you get the desired website design without any hassle. It also contains pre-built content pieces and powerful features for your convenience.
Furthermore, a front-end editing experience like all of the above page builders is also available for developing a website with Visual Composer Website Builder. With this plugin, you can accomplish many other tasks. For example, you can create a custom site layout and use responsive design, add a new sidebar to your page, set up different types of menus or headers, create posts and pages from scratch using blank templates or from pre-existing layouts.
Visual Composer official website: https://visualcomposer.com
Conclusion
It is difficult to choose just one drag and drop page builder, but Elementor is the best of the bunch. While all the above website builders have their benefits and drawbacks, Elementor stands out as a clear winner. It has a straightforward interface and offers the most robust tools for any project. Best of all, it's free!
This article has discussed the 5 Best Drag and Drop WordPress Page Builders that you can choose for your WordPress Website. If you are looking for WordPress optimized hosting, check out our WordPress web hosting packages designed to simplify, secure, and speed up WordPress installation and management.